How to add a consent message to cookies on your marketplace and what cookies are used on Kreezalid
In some countries, notably in the European Union, it is compulsory to warn your visitors of the use of cookies on your marketplace.
Here is the list of cookies used on Kreezalid and which will allow you to inform your visitors.
Cookies used for your visitors
On Kreezalid, we use a single
Session cookie
whose name is re-generated randomly several times a day. This name always starts with "kr" and is followed by a random sequence of alphanumeric characters.
Finally, you can also have your own additional services using cookies. Indeed, all third-party services that you will activate (Google Analytics, Google Tag Manager, Crisp, Zendesk, Google Maps, Youtube videos displayed on your site, etc.) may have their own cookies. It is therefore important to inform yourself about the cookie management policies of any third-party solution that you connect to your marketplace.
Cookies used for administrators
For administrators, but not end-users, Kreezalid also uses a "remember_admin" cookie to save login information to the admin, as well as mtc_id and mtc_sid cookies which allow anonymous measurement of the use of different features of the admin.
Note that we also use a third-party service for our update announcements which places a cookie (headway-widget) in the browser.
Display a banner on the use of cookies on your marketplace
In order to simply display a consent message for the use of cookies on your marketplace, you can use a free app found in the Kreezalid Store app called
EU Cookie Banner
.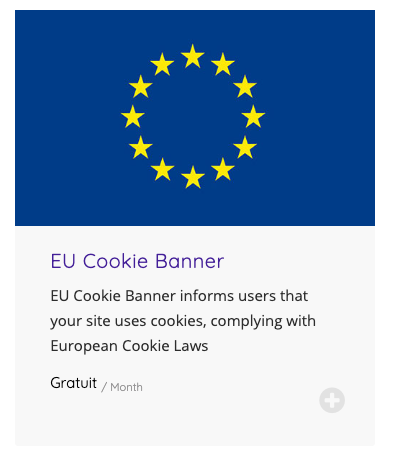 This app allows you to:
Create a personalized message on the use of cookies on your marketplace
Add a link to your privacy policy
Collect your users' approval for the use of cookies
Updated on: 21/03/2023